Uppity had a beautiful litter on April 18, 2020 by GCH Paradocs Bellwether Heath! SO excited about this all-black litter, and love what I kept!!
As a small kennel, Bearpaw Labradors have on average only one litter per year. Soundness and temperament come first with us, and all of our breeding dogs have OFA hips, elbows, and heart clearances, along with annual ACVO/Cerf. All litters are screened by a board-certified veterinary ophthalmologist (ACVO) at 7 weeks of age. We will also not breed any dog without true Labrador temperament–tails wagging, eager to please, strong prey drive.
All of our puppies are whelped and raised in the house, well socialized, and introduced to new elements (including wings and pigeons) constantly.
We believe in the "Rule of 7." Pat Hastings, AKC judge and author of "The Puppy Puzzle," says that by the time pup is 7 weeks old, it should be exposed to 7 different situations, surfaces, objects, people, locations, challenges, and containers. This results in smarter, better-socialized, happier dogs.
All pups are wormed at 4 and 6 weeks of age. At 6 weeks of age, all pups are given their first inoculations of DHPP. All vaccination, worming, Cerf information will be provided in the puppy packets.
Our puppies can not go to new homes before 8 weeks of age. All are sold on AKC limited registration.
No matter what your ultimate goal with your Labrador–show, field, obedience, family companion–we strongly recommend formal obedience for you and your pup (puppy socialization up to 5 months; formal classes beginning at 6 months). A trained Labrador is a happy Labrador!
Please enjoy these galleries of some of our puppies from over the years.
Glinda X Duffy (CH Beechcroft's McDuff) had beautiful babies! October 2018
Ellie J X Papi (CH Zinfandel's Big Papi) — Born February 25th, 2017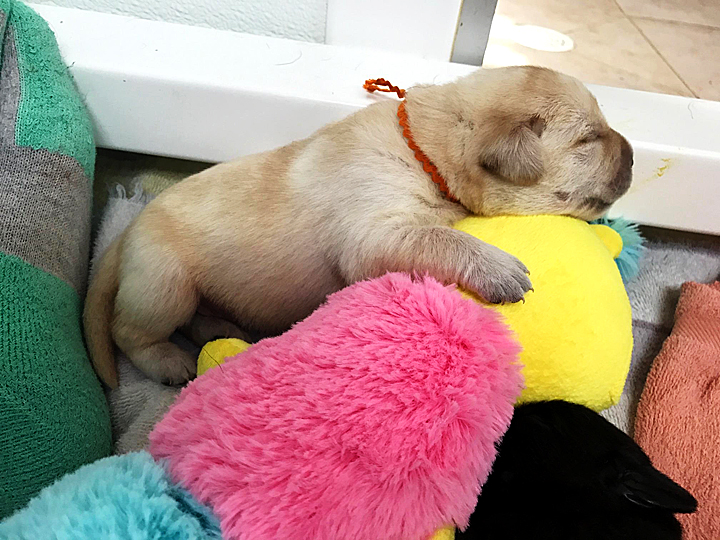 Caris X Gamble — Born May 29th, 2016
Caris X Gamble — Born May 29th, 2016
Diana x Duke — Born June 5, 2013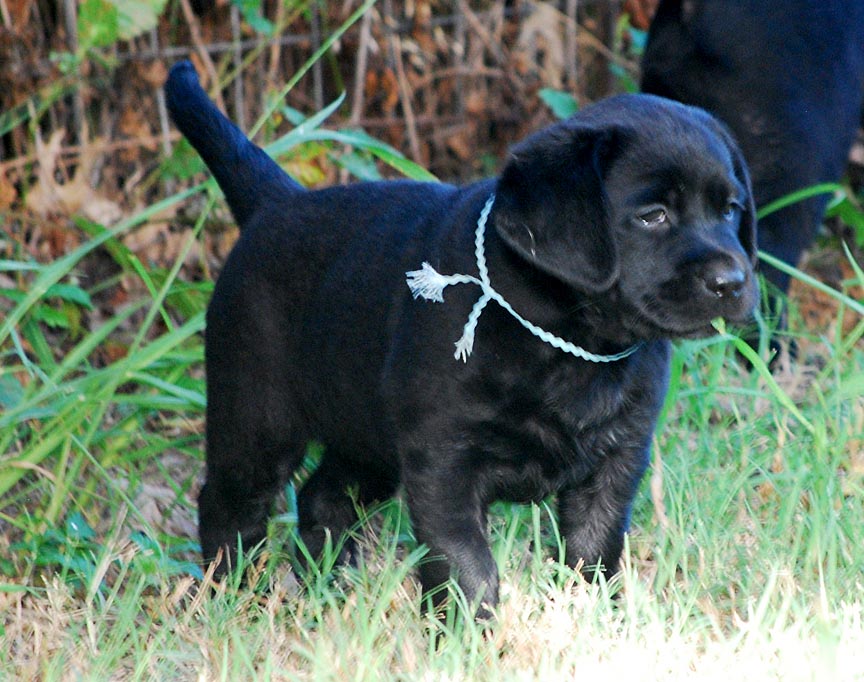 Diana x Duke — Born June 5, 2013